Introduction
In my recent post, I'm writing an article review on Acer aspire 5 slim laptops and today I'm reviewing another amazing Acer laptop in detail. from processor to ports and last we talk about is this laptop is worth you or not.
Processor and GPU
build quality
Screen and memory
it's ports
Where To Buy
Alternative laptops
As similar to Acer aspire 5 this laptop also has an attractive look and 90% more fantastic performance than Acer aspire 5. it had a bunch of great features for an excellent price point if your budget is lower than 40000. Then, Acer Aspire 3 is one of the best budget laptop in India for your multitasking process, so; you must check this out.
Build Quality
Build quality is one of the essential things in the laptop, so; we start our review from the build quality. This laptop is available in Obsidian Black color on amazon. the upper portion of this laptop is made of high-quality plastic which gives this laptop a premium looking laptop
this laptop has a dimension of 381.6 x 262.8 x 24.95 mm which is standard in dimension Acer Aspire 3 weight is about 2.1 kg only which means you can easily carry it on your workplace or college
Display and Memory Features
Now talking about its screen, Acer comes with 15.6-inch 1080p TFT display her TFT means Thin Film Transistor the main advantage of TFT display The TFT displays is that they have a high contrast ratio and have low production cost, thus lowering the price of your device. The screen is quite bright and gives you work on a laptop for long periods. so, that way this best laptop in India at this price range
this laptop has 1TB of HDD of 5400 RPM which is much enough to store you all data safely, and it also has 8GB of RAM which Expandable up to 12GB
Processor and GPU Features
Now the main things come processor, which is the heart of any laptop Acer Aspire 3 comes with intel core i5 8th generation with 8GB of DDR4 RAM combination of intel i5 and 8GB ram gives your laptop boost when you are doing Processing & Multitasking.
The clock speed is 1.6 GHz, which not much is performing but, it is quite enough to handle your multitasking program quickly, but, on turbo mode, the clock speed becomes 3.4 GHz, which is a good thing's.
it comes with NVIDIA Geforce MX130 GPU which is much powerful than Dell Inspiron 15 3000 AMD Radeon 520 GPU.
Why Best
So, at this price range, getting MX130 is much better because of Dell Inspiron 15 available on Flipkart 49,990 RS. on another hand Acer 3 available on Flipkart at the 39,990 RS price which gives you NVIDIA Geforce MX130 so, that was it was a best budget laptop.
Port And Slot Features
For your input here, you will get 2 x USB 2.0, 1 x USB 3.0 here 3.0 provide you fast file transfer feature it also has HDMI port, SD Card Reader slot and also has a mic in. For your sound, it has Stereo Speakers, Acer TrueHarmony Plus Technology, which gives you surrounding sound quality.
Battery
It has 3 cells, 3490 mAh Li-ion Battery, which is the only thing that Acer can fix, but, on average, this laptop gives you 5 hours of battery life on video and internet surfing. In this laptop, you also get 65 W AC Adapter for charging your laptop.
Where To Buy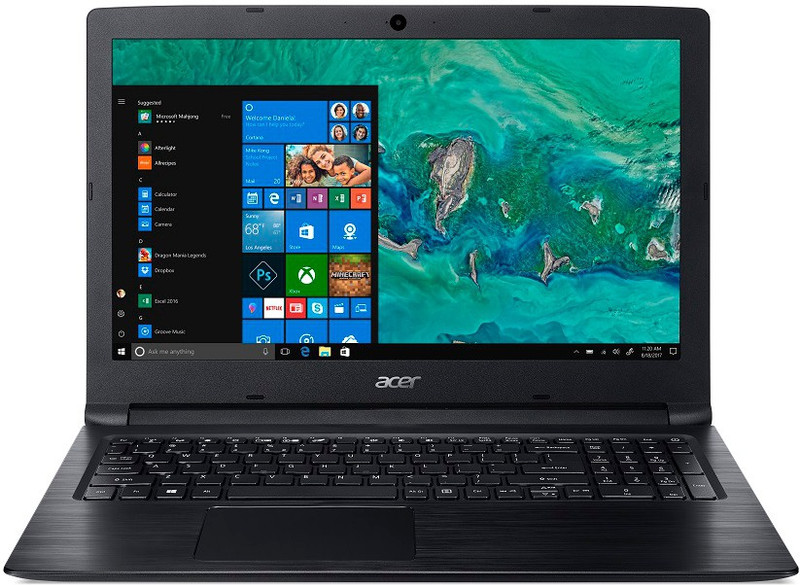 Rs. 40,990
Rs. 51,295
out of stock
Flipkart.com
Alternative laptops